Serving The Stars: Coach Supremo Rick Macci
The Williams sisters are tennis greats. But off the court, a lesser known figure has been there all the way for this pair and other champions, so what is the Rick Macci way of coaching?
By Sandra Harwitt
Rick Macci has been a well-respected name in tennis circles for nearly 40 years now, garnering recognition as one of the foremost developmental coaches of future superstars. The list of Grand Slam champions Macci's had a hand in producing is enviable. Venus Williams, Serena Williams, Andy Roddick, Maria Sharapova, Bethanie Mattek-Sands, Anastasia Myskina, Jennifer Capriati, Mary Pierce, Sofia Kenin. They all clocked endless hours of hitting forehands and backhands as adolescents at the Rick Macci Tennis Academy, and received daily private tutoring from the maestro.
What's most intriguing about Macci is that though his name is indelibly linked to all these greats, he's never been an easily recognisable face in the crowd. That's because one place you'll never find the Ohio native and Florida resident is in a players' box, living and dying with every point as his student is vying for a coveted Grand Slam title. By the time his players are contesting for major trophies, Macci is long gone from the scene, no longer a daily presence in the athletes' life. He's already performed his magic – teaching the fundamental art of tennis technique, strategy, physical and mental strength, and how to garner a competitive edge – and has moved on to coach others hoping to be future top ten talents.
Among some in the tennis business there's a belief that 67-year-old Macci's felt slighted all these years that none of his juniors have taken him along for their ride in the pros. During a phone chat with the always enthusiastic Macci he refutes that notion as a fallacy, asserting he's always known – and chosen – the best lane for him to professionally shine.
"You choose what you want to do," Macci says. "I've had numerous opportunities to go on the road and it's never been my goal to sit in the box and have someone win a Grand Slam. Those things come and go, but to have a business that I've had since 1985 – you know, to put Humpty Dumpty together is much harder than if you start coaching someone and they've already won Grand Slams. "I think there's a misconception about all that," he adds. "Just to go on the road and then every other year or every year, you're coaching a different pro was not what I wanted to do. That's not real to me. I'd rather bake the cake, put it in the oven and put the icing on it. I don't need a job. I don't need to travel. I get to sleep in my own bed and teach 50 hours of private lessons every week."
There's no denying Macci's fervour for moulding future superstars, as well as in bringing the sport to lifelong run-of-the-mill tennis playing enthusiasts, is as vibrant today as it was the first day he opened his Florida academy doors in 1985. "Coaching is really all about who is on the other side of the net, whether it's someone in the world's top ten or an 86-year-old guy," Macci says. Whoever it is, they're my favourite student for that hour."
Macci, who currently operates his programme out of Boca Raton's South County Regional Park, consistently attributes these essential ingredients to his success: an ability to evolve his coaching to mesh with the evolution of the game, his tireless dedication to his students of all levels and his loyal academy staff, and in possessing at least an extra ounce or two of patience. "What I do is a medley of things," Macci says. "There's an enormous amount of mental training in a lesson, there's a lot of technical parts, there's a lot of biomechanics (handled by Dr. Brian Gordon, a Ph.D. in biomechanics). And then there's the art of communication – and not just with the kid, but with the parents!"
Macci's penchant for patience has clearly served him well when it comes to dealing with the hovering tennis parent. He could've written the playbook on managing to listen to a parent's concerns and coaching advice, whether good or bad, and making said parent feel an integral part of every decision made, even when the ultimate result veers towards the Macci way of doing things. Parents tend to be more of a constant presence at Macci's since most of his students live at home. He has a few boarders but believing youngsters thrive in a family environment, those children live with host families and not in dormitories.
"Richard Williams, Stefano Capriati and Jim Pierce – right there I had some of the craziest dads from outer space, people might think," says Macci, chuckling. "But it's all about dealing with it. The art of coaching is you have to be able to handle the parent. "I let the parent get involved because they're probably going to be anyway," he adds. "A lot of them are Velcro – or helicopter – parents. I just explain to them this is a long-term process; it's a journey, and it's called junior development and not junior final destination."
According to Macci there's a distinct difference in coaching a boy and a girl, and much of that relates back to the parent. "It's night and day, and most of the fathers are much more involved with their daughters – 'Daddy's little girl'," Macci says. "They want to protect the girl more. It's very different for the child too," he adds. "A boy can make a mistake and it's not that big of a deal. A girl can hit 20 shots in a row, miss one and it's like the world's coming to an end. There's definitely a little bit more emotional involvement with the girls, especially at a young age."
Two champions in the making, 1992.
Macci's talent for working along with a parent was showcased on the silver screen all because he's a central figure in the film King Richard, which profiles the odyssey of how an unwavering, if not tennis-savvy Richard Williams raised his daughters, Venus and Serena, to be two of the greatest players of all time. The final steps of readying the Williams's for the pro tour took place under Macci's watchful eye after he travelled to Compton, California, at the pleading of the elder Williams, who was in search of a world-class coach willing to help his daughters. On that scouting trip Macci discovered two young girls with raw but undefined talent, who were both hellbent on becoming future number ones. Without hesitation, Macci took the gamble on the Williams sisters. With his own funds, he brought the family to Florida, provided them with housing, a vehicle, free training and pretty much everything else they required.
"When I visited Compton I just fell in love with the family," Macci said. "This was before they were any good. You know, it's easy to like someone when they're winning Grand Slams. So I willingly accepted all the heavy-lifting and dirty work that was going to have to be done.I was able to coach and put up with Richard. I knew it was going to be a challenge. Richard became like my best friend, and Venus and Serena were like my daughters."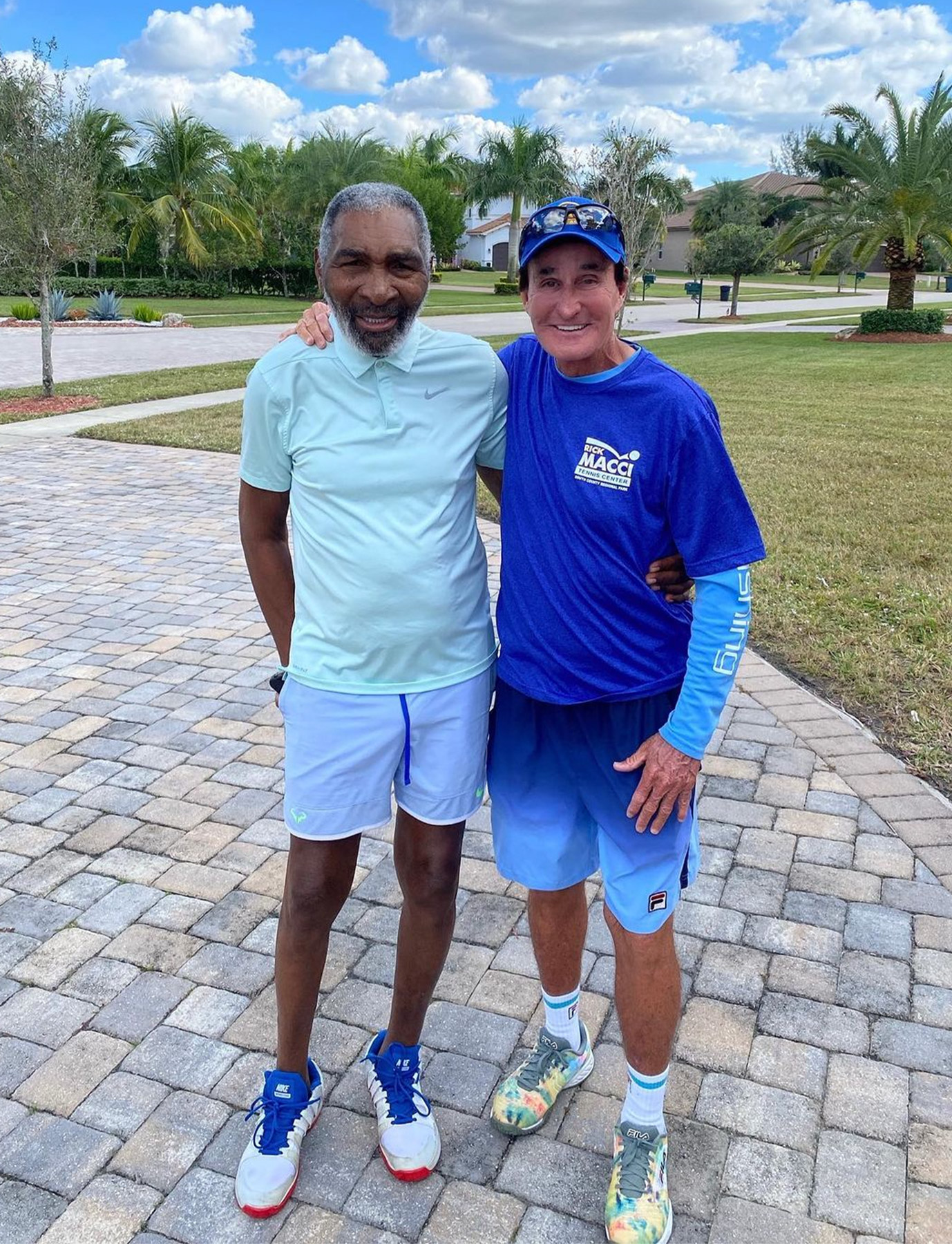 Macci and Williams didn't always see eye-to-eye on the direction for the sisters to take – the movie showcases Macci's dismay in finding out that Williams had decided ahead of arriving in Florida that his daughters' were not going to take the traditional path to the pros by playing junior tennis. To this day, however, Macci considers Williams a close friend and recently visited the ailing patriarch at his Palm Beach home. "I was happy with the movie because it showed what I did," he says. "I don't think many realised the money that went into this, and the risk. To put this together in three and a half years and Venus almost beat the No.1 in the world (Arantxa Sanchez Vicario in her tour debut), it happened at the Rick Macci Academy."
Obviously, there aren't many people in the world who get to see an actor portraying them in a Hollywood film, no less a movie that received multiple Oscar nominations. Macci, who attended a private screening of King Richard in Boca Raton, and then walked the red carpet at the film's world premiere, admits it was surreal to watch Jon Bernthal playing him. "People have asked me about that and the only thing I say is, 'Am I really that wired up all the time?'" inquires Macci, laughing. "It was a bit hard for me. Obviously, his moustache was bushier and his hair was a little off. But I thought he did a great job."
If Macci has one misgiving about the film, it was regarding Jennifer Capriati. While he understands why Capriati was used as a vehicle to represent the dangers of player burn-out at a young age, he would have liked to see the offering of a postscript about the former star. "That caught me off guard," he says. "I wish they had added four or five sentences at the end saying, 'Jennifer Capriati came back, became No.1 and won three Grand Slams, and got a $10 million contract from Fila.' That would've been nice because you can always get knocked down, but when you come back, that says it all."
As with the Williams sisters, Capriati and every junior he's worked with, highly ranked or not ranked at all, Macci's ultimate goal is to enable a player to be the best they can be. For the large majority of his pupils the winning objective is a college scholarship, which is why the Macci coaching method always emphasises the necessity of education. "Pro tennis is rare air and less than 1% are going to make it. Then we have to ask, what do we mean by making it," Macci says. "You know, if you're 200 in the world you're not going to really make any money."
Among the important lessons Macci imparts in his coaching is how to deal with pressure, which he also considers an important life skill for off the court as well as on. "The most important thing is you have to have the ability to forget, not only in tennis, but in the game of life," he says. "You have to have a short memory. You have 20 seconds to flip a bad point in your mind to make it seem like it happened 20 years ago. You can get mad, but you better come back more determined."
And to that end, Macci's made a career of living the life he preaches by coming to the court every day determined to be even better than the day before. "A winner always finds a way," Macci says. "I love what I do and I always felt that way ever since I started. I get up every morning at 3:30am and I just can't wait to be on the tennis court. Every day I'm learning. I'm always trying to be ahead of the curve and evolving because the game is always evolving, and that's the biggest thing."
If you love this you'll also love...
This week's exclusive offers