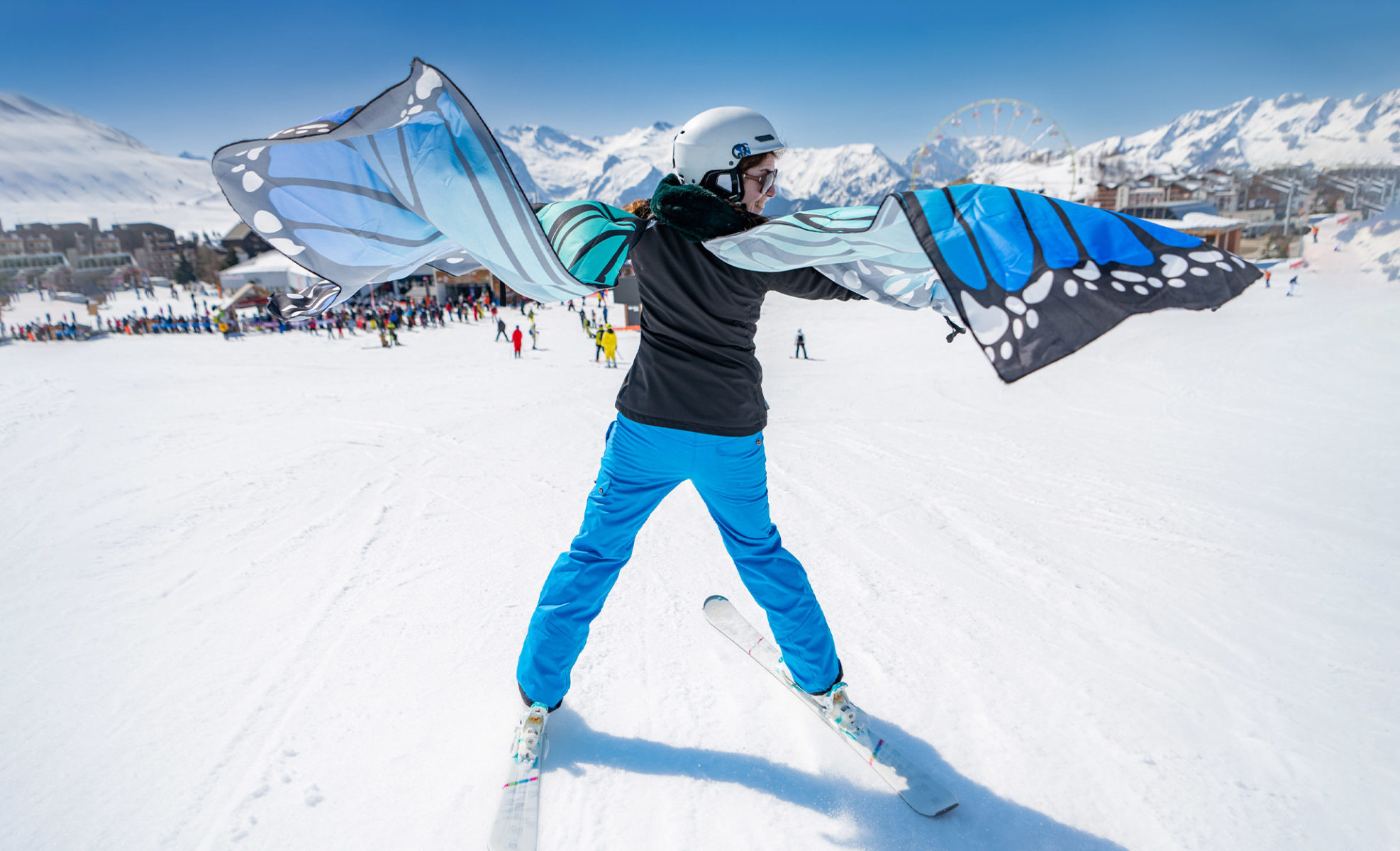 Best In Snow: Tomorrowland Winter
From ellesse models to Love Island stars, Tomorrowland is a mecca for lovers of snow and DJ sounds. Amy Sedghi heads to the French Alps to find out what the coolest festival has to offer
By Amy Sedghi
Photography ellesse/Tomorrowland Winter
"It's like being at a party on the moon, with lots of people who love all the same things as you," enthuses Laura Crane, 27, as we chat at an altitude of 2,350m whilst tunes blast out across a packed La Folie Douce après-ski bar. The ex-pro surfer, Love Island star and avid snowboarder is selecting the words she'd use to describe the Tomorrowland Winter festival we're at, to someone who's not experienced it.
Experience Tomorrowland Winter. Film produced by ellesse/Tomorrowland.
For those not familiar with Tomorrowland, the music festival which usually takes place in Belgium attracts hundreds of thousands of devoted electronic dance music fans each summer. It's a hot ticket too with the summer festival selling out in half an hour. This time though, Tommorowland has surfaced in Alpe d'Huez for a winter edition – the second ever and the first since 2019. Thanks to the pandemic, the last two that were planned were cancelled. In a husky voice (we're into the final day of the festival and people's vocal cords are feeling it), Laura explains what it is about the event that's drawn her in: "It's such a good balance because you fully enjoy the day and then there's something to do at night." With a big grin, she adds: "I've snowboarded my heart out all day, every day."
The sun shines down on us as the DJ amps up the music, bar staff rush past with bottles of chilled rosé and paragliders drift down to a backdrop of snowy mountains; it certainly feels like another world. Laura's feeling of us being on the moon makes total sense: we're up here, far, far away from the realities of life below. A lot of skiing, riding in the snow park and shooting videos with ellesse has been on the cards for former Olympian Anaïs Caradeux. Oh, and partying, she adds with a laugh. The French freestyle skier admits that although she's more of an old soul with a preference for jazz, the convergence of hundreds of world-class DJs and artists in a French ski resort has truly opened up her horizons. The 31-year-old describes the people she's met this week as a "melting pot of inspirational people from all backgrounds" and says the music has played a vital role in bringing them together.
"I've always listened to music when I'm riding… I feel like it just gets you into the zone, gives you that energy you need or heals your soul when you have a heartbreak. It amplifies your mood – it's a special thing. "After Covid, it's amazing to have something like this to bring us all back together, and around music which for me, has always been a way of expressing yourself." In fact, the event has attracted 18,000 festival goers from 73 different countries. There is a palpable sense of joy when you look at the faces grouped together in the crowds – this kind of close contact and partying hasn't been possible for so long and the festival goers here in Alpe d'Huez are ready to embrace it.
Dressing up is also a key – but not compulsory – part of fantasy focused Tomorrowland. You're as likely to catch a glimpse of unicorn heads, capes and glitz on the skiers and snowboarders on the slopes as you are to see eccentric outfits in the evening. There are also fanciful sets, including huge ornate sculptures and a Tomorrowland themed hot air balloon to spot as you ski. With a mix of indoor and outdoor stages, including one aptly named Top of the Mountain, at 3,300m, the event is also designed to be accessible for non-skiers and pedestrians. Skiing and snowboarding are certainly not mandatory in order to enjoy the festival, but most of those I spoke to adored the opportunity to combine the two – no matter what level their snow sport skills were at.
As well as hosting the festival, Alpe d'Huez also continues throughout the period to function as a regular ski resort, so punters can indulge in a variety of activities, including snowmobiling, dog sledding, ski and snowboard lessons –there's even a Ferris wheel which is lit up at night. It's a savvy move too for the resort, which is coming to the close of its season (for purists, the snow might prove a tad too slushy at times), as the festival draws in a significant number of skiers and snowboarders at a time of year where traditionally resorts are slowing down. With a number of packages and pricing options available for Tomorrowland Winter, there's a great incentive for lovers of snow sports in that festival passes include lift and ski passes (usually one of the most expensive parts of a ski trip, barring flights and accommodation). A 4-day festival pass will set you back €204, whilst a 7-day pass is (€329).
Whilst thousands of partygoers dance to the beats laid down by the likes of Afrojack, Armin Van Buuren and Steve Aoki, costumed dancers perform suspended from the ceiling of the main stage in the evening. Even if you're not closely following the line-up, it seems impossible not to become absorbed in the magical world that's been created. A cashless festival, you'll even have to pay for food and drinks using 'pearls' uploaded to a wristband. This is all part of the essence of Tomorrowland, which addresses its attendees as 'People of Tomorrow'. Nothing is off limits and the more mystical and mythical the better. Anaïs describes how today she tried paragliding, an experience she says was "amazing". In her work with ellesse – a sponsor of the festival – she's been shooting some epic images and videos of their new ski wear collection.
A major sportswear brand, ellesse's skiing heritage might not be so well-known, but is undeniably impressive. Founder, Leonardo Servadio was a keen fan of mountain sports, with ellesse being worn head to toe by the likes of the Italian ski team during the 1970s. Now back with their signature bold designs, the brand's ski wear offers nods to both retro and modern aesthetics, with a bold splash of colour. Anaïs pinpoints another moment that's been a real highlight of the festival for her, "Yesterday, we were upstairs (looking out over the crowd) and the DJ (Steve Aiko) dropped a beat. He suddenly brought it back and the crowd looked like a wave. People moved in some kind of synchronisation and it was amazing to watch, thinking that's thousands of people moving all together.
"With everything that's happening in the world right now, it's giving me hope to see something like that. That moment hit me and I thought I'm living through something special." That's certainly how I felt, attending my first ever Tomorrowland and being dipped into the world of ski festivals. The buzz you get from being up in the clouds, looking at snow-capped mountains against clear blue skies with a chilled drink in hand, is only heightened by the vibe, energy and atmosphere created by the musicians and festival goers keen to party. You certainly do need stamina for an event like this, but it's also simple to peel away into quieter areas of the resort. For example, my personal highlights included a ride down the famous black Sarenne run, where the focus was on peaceful skiing with a small group, followed by a night of intense dancing and laughter within the thriving masses of the main stage.
A big fan of trance and electronic music, not to mention snow sports, Sarah Bennett, 30, has travelled to the festival from Reading with her husband Josh. Dressed in a vibrant multi-coloured retro-style ski suit, she has music blasting from a speaker clipped to her hip as she counts up how many times she's attended the original festival in Belgium ("eight or nine… I lose track"). We've met on the ski lift as she's heading to the Crystal Garden to meet new friends she's made at the festival. "It's me all over: thrill seeking in the day and then partying in the evening," she says of the festival, promising she'll be back next year and for many years after that.
Obviously, a huge part of the winter edition of Tomorrowland is its location amongst the snowy alps, where revellers can drop into stages on the mountains after a spot of skiing or snowboarding. Laura points to the bonding experience extreme sports offer: "That's the thing I love about extreme sports is that the people that do them are like-minded. everybody is into the same thing and the vibe is super cool.
"If you ski and you enjoy this kind of lifestyle, it's easy to make a lot of friends here because Everybody just gets on. It's like a huge, huge family." In fact, having bonded with Anais on the trip, the pair are already planning future adventures taking in their shared loves of snowsports, surfing, skating and travelling.
As I ski down the mountain following a set at the Core stage, the setting sun casting a golden glow, I get chatting to a group of eight friends, some of whom have travelled from Belgium where they regularly attend the original Tomorrowland festival. They grin and wave for me to join them on their journey down, chatting as we go. It sums up the experience of the festival. Some are incredibly advanced skiers, others just beginners, but every time a gap forms, the more experienced will wait, look at the sunset and absorb the beautiful surroundings that have for these past seven days become a magical party land amongst the snow. Later there will be fireworks on the slopes as crowds stream towards the main stage – ready for another night of dancing, music and drinking in this magical place.
If you love this you'll also love...
This week's exclusive offers