Mermaids of Weeki Wachee
Glorious meets the fascinating women of Weeki Wachee Springs in Florida to find out what it takes to become a professional mermaid
By Allison Burney
Photography by Charlie Engman
There's a tiny town in Florida that's both famous, yet still relatively unknown. It's a land where graceful mermaids exist in all their glory, and where the 'Old Florida feel' still shines through, beckoning tourists of all ages from the world over.
It's also where Delaney Buffett, a director and producer from Los Angeles, chose to spend four days creating her award-winning short film, The Spring. She lovingly describes Weeki Wachee as "very much stuck in the past – in a good way. In a very charming way. It's kind of like a relic of Old Florida."
The Spring, an award-winning film created by Delaney Buffett.
When she first learned about the mermaids of Weeki Wachee Springs and their one-of-a-kind underwater performances, she was inspired by how different it was. "I think with anything that's so unique, there's always an interesting story to tell about why and how people ended up there," she told me over a video chat.
She explained her desire to get an in-depth look at why someone would become a mermaid and their connection with it – and what she found surprised her. In the process of interviewing these women, watching them perform and getting a behind-the-scenes look at some of the production aspects, she found a very different perspective to the one the general public sees. "It was interesting to see that it was very much like a family business for most of the time, and the women were very connected with each other," Delaney says. She learned that many of the park's current mermaids got into it because their mothers, aunts, cousins or sisters were mermaids before them. They saw how much it meant to the people in their lives and they also wanted to give it a try. She says that among the mermaids she spoke to while making the film, there was a shared feeling of 'this is what our family has done for generations. We love it, we love Florida and we love the water'. "It was nice to see how they all look out for each other, from the top down."
Mermaid Kelley has been performing at Weeki Wachee for six years now and is also the underwater theatre manager. She echoed Delaney's sentiment that the bond between the mermaids is much more like family than co-workers. "It's a group of about 20 girls, and you're with them almost every single day. So we fight like sisters and we love like sisters."
She says that many of the girls work as mermaids part-time while going to college, and that the majority of them will be mermaids for 5-10 years before moving on. However, there's a sense that once you're a mermaid, you'll always be a mermaid, no matter where you go or what you do next. They're forever connected by a shared love of being in the water.
Delaney says that there's also a whole subculture of just loving mermaids, which is what tends to draw those without familial connections. There's "a whole other world of creating the tail and learning to swim with it – and the craft involved in the swimming. And then there's the dedication and craft involved in the design of the costumes." Mermaid Kelley adds there are girls  who can sew and repair a tail, but they normally get them made specially for the performances.
Just like Delaney, I was surprised by what I discovered when I visited Weeki Wachee several years ago on a family trip to Florida. The prospect of a 'mermaid show' was just too intriguing for us to pass up, so we made the drive about an hour north of Tampa to Weeki Wachee Springs State Park.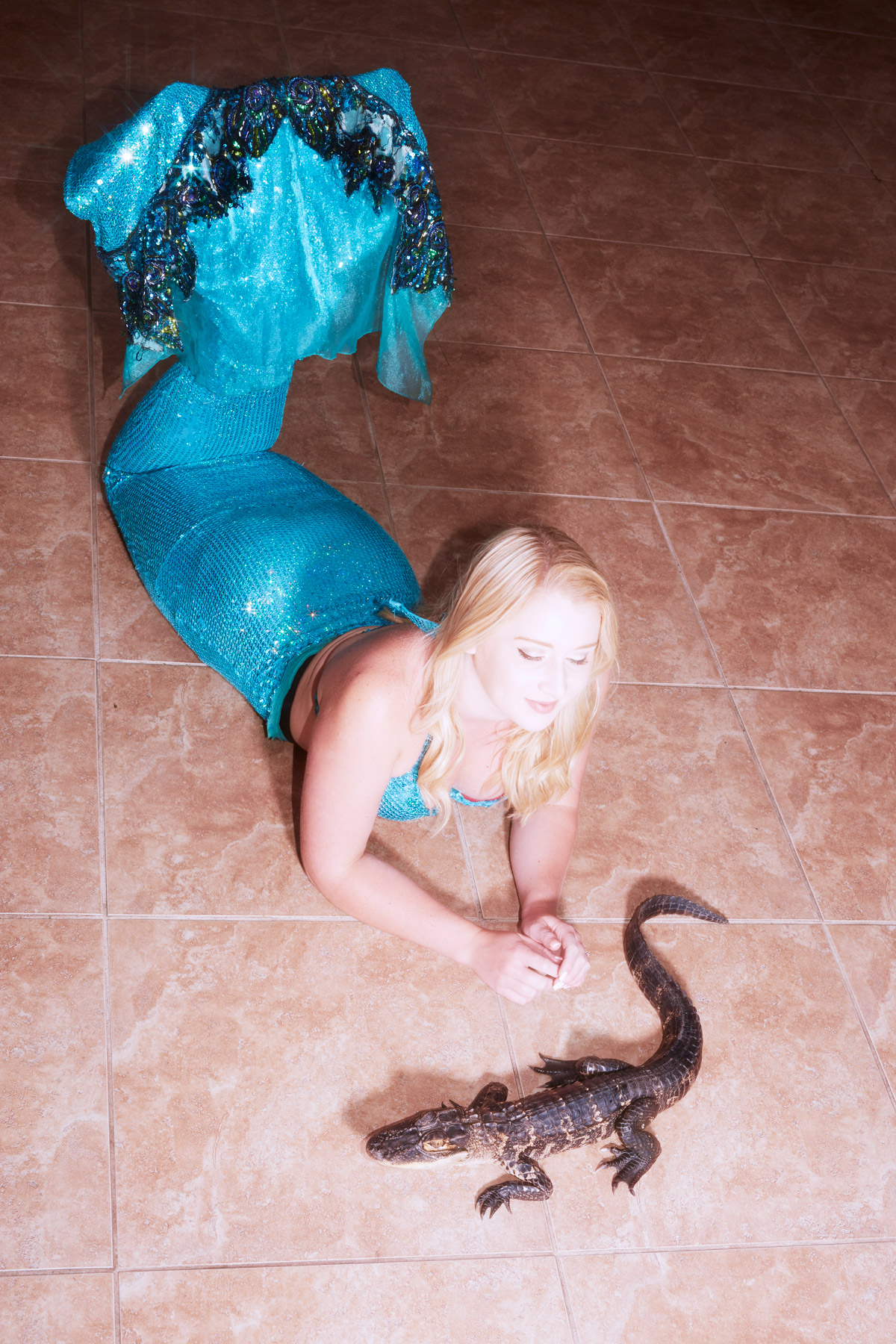 What seemed to be fairly typical state park facilities upon arrival quickly transformed into a mystical underworld, as real-life mermaids appeared before my eyes in an underwater theatre.
For thirty minutes, the mermaids 'danced' to choreographed routines as music played through speakers and a narrator unveiled the story being acted out. The audience was mesmerised by the beautiful, clear spring waters, the mermaids' shimmering tails reflecting off the glass, and the streams of bubbles rising to the surface. It was unlike anything I'd ever seen, and I was captivated. Judging by the hoards of other people who've made the special trip out to one of Florida's oldest attractions, it's clear that I'm not the only one who found the show fascinating.
While the mermaids are certainly the main attraction, the park's natural history is also part of the draw for tourists. Mermaid Theatre is built around Weeki Wachee Springs – and the 'stage' area is actually inside the spring itself. Florida State Parks describes how the basin of the spring is 100 feet wide with limestone sides, making it "the deepest known freshwater cave system in the United States." The spring goes down over 400 feet, and the mermaids perform inside this natural wonder.
To the audience, it appears that the mermaids are in a tank, but in reality, it's the audience who are in the underground tank. The viewing area is fairly large, with the capacity to seat over 400 guests, but it didn't start out this way. When it was first built in 1946 by Newton Perry, a former Navy dive instructor, it was a tiny 18-seat theatre, and Weeki Wachee wasn't even on the map. But that began to change in October of 1947 when the underwater theatre officially opened and the first mermaid show took place.
There are several factors that make Weeki Wachee's mermaid shows extraordinary. For one, the mermaids don't surface at all for the entire duration of each performance. And no, they don't have scuba tanks attached to their backs to help them breathe. Instead, there's an air tank built into the spring, so the mermaids breathe through multiple oxygen hoses as needed. Unbeknownst to the crowd, they're battling a five-mile-per-hour current while putting on the show, which is quite a feat. There's also the cold water to contend with and the risk of hypothermia, as they aren't wearing wetsuits and may be in the water for up to forty-five minutes at a time. Unsurprisingly, a performance as novel as this started to draw more and more attention and by the 1950s, Weeki Wachee had become known as a tourist destination throughout the US.
Although the women make it look easy, being a mermaid is anything but. Phoning me between performances, Mermaid Kelley explained the lengthy process involved for anyone who wants to become a mermaid. The 'interview' stage includes a timed swim test, an underwater ballet demonstration and an assessment of the applicant's comfort level underwater. They ask you to smile and see how long you can hold your breath – both important aspects for their performances.
If you do manage to get the job, that's when the real work begins! There are months and months of training to undergo as all mermaids need to get scuba, CPR and lifeguard certified, followed by a scuba evaluation with an underwater safety officer. Then they have to learn how to hold their breath for up to forty seconds at a time – while performing dance choreography similar to that of a competitive synchronised swimmer. Their movements appear effortless and elegant, but the truth is that it's a physically demanding performance each and every time they enter the water.
Depending on the season, the mermaids put on anything from two to four shows per day. Mermaid Kelley says they currently perform two different shows: The Little Mermaid, which is more popular with children, and Wonders of Weeki. The latter digs deeper into the history of Weeki Wachee and explains how the show got started and the famous people who have visited the park. On that list are names like Esther Williams, Jimmy Buffett, Don Knotts, Arthur Godfrey, Ann Blyth – and, most famously of all – Elvis Presley, in 1961.
Despite the challenges that go along with the job, there are also a lot of rewards. For Mermaid Kelley, one of the best parts is interacting with the children she gets to meet. "When I tell a child, 'Hey, I'm a mermaid!' I just love watching their face light up. It means a lot to me whenever I see that," she says. Before seeing the show for myself, I was imagining Ariel sunning herself on the rocks, Little Mermaid-style, which is why I was totally unprepared for the display of athleticism that unfolded. My family and I left Mermaid Theatre that day with a newfound respect and appreciation for the women who've turned mermaiding into a lifestyle. For them, being a mermaid is much more than a job; it's a part of who they are. Delaney confirmed this, saying that "being down there, it was just so clear that (the mermaids) love what they do so much."
I asked Mermaid Kelley what it's like to be a mermaid. I could sense her enthusiasm as she said, "It's awesome. That's all I can really say. It's a fun and cool experience to have." There's a special energy about this place: the magic of the mermaids combined with the park's fascinating natural history are what put it on the map to begin with and will continue to attract the visitors for years to come.
If you love this you'll also love...
This week's exclusive offers