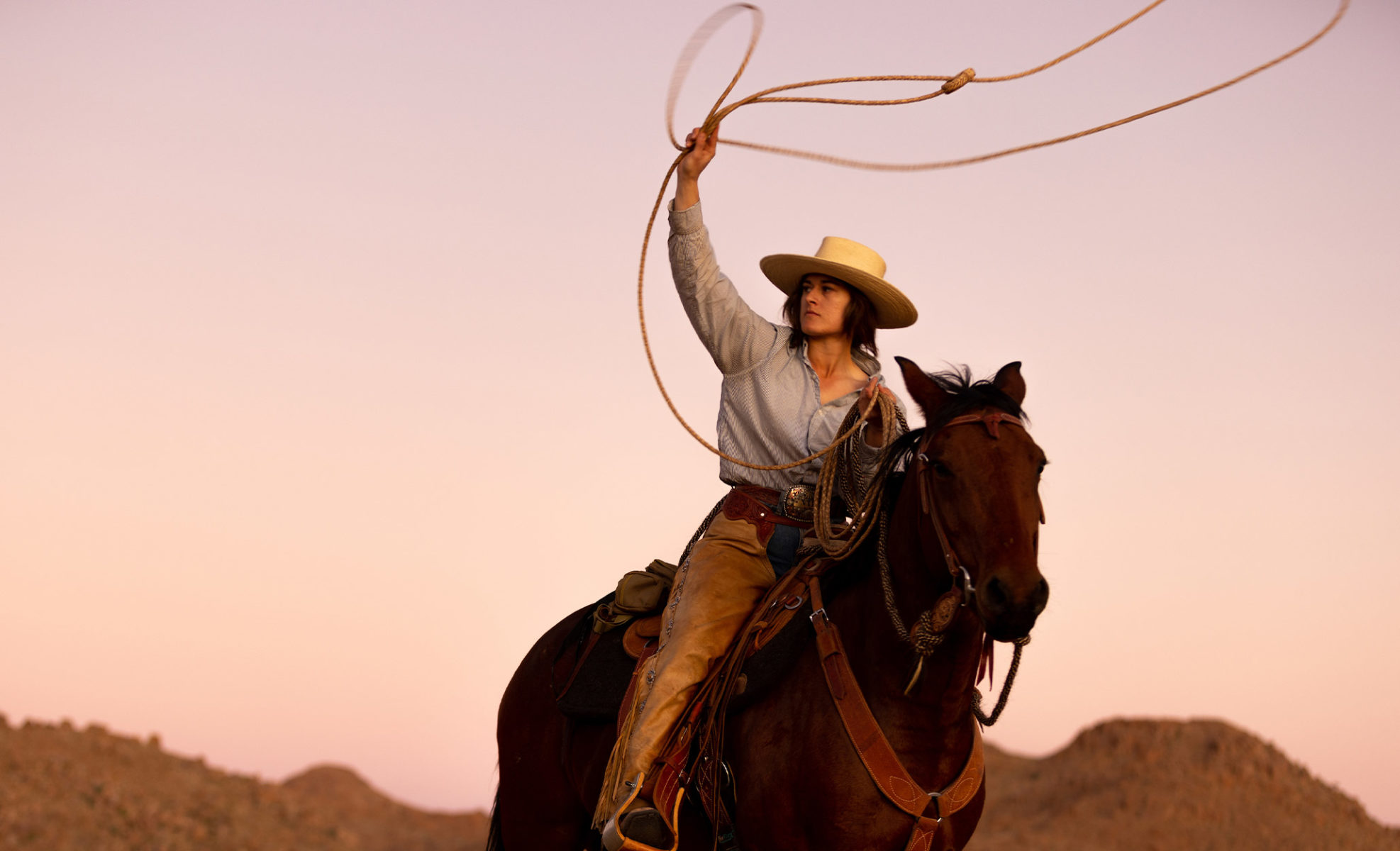 The Ultimate Cowgirl: Emmie Sperandeo
A love of horsemanship and telling stories has morphed into a captivating career for videographer Emmie Sperandeo, who now travels the world to film life on a ranch

By Glorious
Emmie Sperandeo is living every cowgirl's dream, roaming from ranch to ranch in a 22ft trailer to work as a hand and film amazing stories. After initially sharing videos of her work on Instagram and Tiktok, the 25-year-old from Florida established Steady Rein Productions. Since fully delving into her craft of videography, she travels to ranches and farms worldwide, but is also in demand for podcasts, talk shows and even a Netflix documentary about agriculture. Here she tells Glorious about her unique lifestyle, scary moments, favourite places and how she keeps up with the boys.
Glorious: It's so exciting that you are able to combine your passions – horsemanship and videography – into a career. What of the two came first?
Emmie Sperandeo: Definitely horsemanship. I started riding horses when I was about four years old and I've been hooked ever since. But my love for telling stories has always been prevalent, whether I was writing about horses, borrowing my parents' video camera to film my Breyer model horses, and even when I got my first film camera at 13 and began photographing real horses.
Glorious: Did you have a dream of becoming a full-time cowgirl – and is this the next best thing? Have your experiences lived up to expectations?
Emmie Sperandeo: What I do now is better than anything I've dreamt up. In all honesty, I never gave myself the freedom to imagine living a lifestyle that was so far from normal. I never thought I could be so independent or successful in my craft. At a certain point, however, I realised the cookie-cutter path I set up for myself was just not for me. Without much of a plan, I got my first job on a ranch in Montana, and never went home.
Glorious: It's a unique lifestyle – was it easy to transition and prepare emotionally and financially for life on the road?
Emmie Sperandeo: No, it wasn't. It was difficult in so many ways. One being the fact that I had to learn absolutely everything on my own. There was a lot of trial and error. Honestly, my first time even hauling a trailer was when I picked it up after finding it on Facebook marketplace.
Glorious: How are you received in this male-dominated environment? What are the main differences/challenges for cowboys and cowgirls?
Emmie Sperandeo: My experience with this varies. I've learned that when people don't know me and I have a camera in my hand, people underestimate my hands-on abilities, but it gives me a reason to stop hiding behind my camera at times. There are a lot more badass women in agriculture than people realise. And often, behind those badass women, there is an old cowboy who helped them discover there was never a doubt about if they could keep up with the boys.
Glorious: Tell us about Steady Rein, what is the process of deciding where and what to shoot/film?
Emmie Sperandeo: Steady Rein Productions grew from me sharing videos of the ranches I worked at on Instagram and TikTok. I went to college for video production, but when I graduated, I never thought I would end up pursuing it as a career. Not until I got into agriculture and saw the beauty around me every day, the way of life I wanted to share. I put together videos for fun and eventually started to get clients. I work with a lot of different agriculture non-profits, a few specifically centred around supporting women in agriculture. Getting clients in the non-profit world has brought me to a ton of different ranches and farms. Some shoots I do for fun, so I'll connect with people online and set something up when I have a vision I want to create. But most often, I do what I do day to day with a camera close by and capture those candid moments that fuel my inspiration.
Glorious: You've amassed a huge following across social media, particularly on TikTok, with 1.2m followers. What is it about your content that you think captures so many on this platform and why do you like it?
Emmie Sperandeo: I think it's a mixture of a few things – the romance of the 'cowboy' lifestyle, being a solo woman, and not growing up with a ranching background. It brings in a diverse demographic who are interested in my content. I love being able to help inspire people to go after their unconventional dreams.
Glorious: What are the differences between your content on Insta vs TikTok?
Emmie Sperandeo: My TikTok posts are definitely more personal. For whatever reason, it feels more natural on that platform. On Instagram I like to use it as a sort of portfolio for my photography/cinematography, and on my stories I show day-to-day stuff.
Glorious: Do you have a favourite season to shoot for a different effect, or does this depend on the client?
Emmie Sperandeo: I really enjoy spring because the foliage tends to be vibrant, but actually I love all the seasons. They all have a different feel. I will say that winter can be the most limiting but I'll take the cold over the heat any day.
Glorious: How long do you stay in one place? Even when filming is over, do you stay longer?
Emmie Sperandeo: This depends on a few different factors. Sometimes I stay for two days, sometimes six months – and everything in between. Depending on my schedule and the friends I make, I stay places longer than I thought I would. I try not to set a lot of plans in stone because I love being able to have that flexibility but in the summer months sometimes I am so booked up that I can't stay in places for too long. When I can, I go back to places and people that are special.
Glorious: Is it easy to bond with horses at each ranch? Presumably you have to build a relationship with them before filming for the best results?
Emmie Sperandeo: That's certainly preferable, but realistically it's not always possible to get to know the horses before we jump right into work. There's been a few circumstances where I get on a horse for the first time with my camera gear and just hope they're nice enough to take care of me. When I don't have my gear, I'll ride pretty much everything. Makes things more exciting. But when I am in situations like that, I will ask whoever I am riding with for their most trustworthy horse so that I don't have to worry so much about my gear getting damaged.
Glorious: You spend a lot of time on the road with just your dog Johnny as company – what do you enjoy and dislike most about living in a trailer?
Emmie Sperandeo: I do spend a lot of time on the road, and Johnny is great company. I love the freedom that comes with being able to move my home anywhere. One of the best feelings in the world is waking up far from other people, in a beautiful place. But conversely, that can also be hard at times when I crave consistency. Sometimes I have to travel to areas where camping is difficult and it's a struggle to figure out where to go. I don't like that part. Also, everything breaks – all the time.
Glorious: Do you ever feel frightened travelling on your own? Have you had any scary moments where you've had to protect yourself, especially from wildlife?
Emmie Sperandeo: For the most part, no, I don't feel frightened. I'm pretty confident in my abilities and I pride myself on being cautious and very prepared. But I have had a few unnerving experiences where something goes wrong with my trailer or truck in the wrong place, and it's not fun.
There was one time where my old truck broke down for the second time on my drive from Florida to California and I was stranded at my campsite with no way to leave for a whole week. It was one of the most helpless feelings because I was on public land that anyone could access, and I just hated the idea of not being able to drive off if I needed to. As far as wildlife goes, I'd say one of my closest encounters was nearly getting bitten by a rattlesnake on a pack trip in Montana.
I was walking along the riverbank at dusk after riding all day. Everyone else was around camp, and the rattlesnake was coiled up on a rock ready to strike. It only started rattling when I was about a step away from it and I've never jumped and grabbed Johnny so fast in my life. When I packed in Alaska, I was really really nervous about encountering a grizzly. Thankfully that didn't happen, but we did stumble upon a herd of wild bison one day, which was pretty incredible. And a lot of moose. Most people don't realise they are very dangerous.
Glorious: You have travelled to places with some of the most beautiful scenery. Where are your favourite places and why?
Emmie Sperandeo: There's so much unique beauty in every place I've been. One of my favourites is Alaska. It has this uncharted, wild feel to it that I have not experienced anywhere else.
Glorious: When you're not travelling, tell us about your work on a day-to-day basis.
Emmie Sperandeo: My day-to-day involves a lot of riding. I usually dedicate early mornings to my video clients and emails, then most of the day is spent outside working colts, exercising horses, feeding, cleaning stalls and at times I'm filming. Sometimes at night I am editing, reading (I am reading a book about bits right now), researching things about my camera, horses or cattle, or sometimes just watching tv and movies. It's nice to have wifi, gotta take advantage of those luxuries!
Glorious: Do you have your own horse?
Emmie Sperandeo: I don't at the moment. My parents still have horses down in Florida, but I've never travelled with them. My last horse passed away in Oregon a few years ago. He had DSLD [Degenerative Suspensory Ligament Desmitis] and was suffering a lot, so I had to put him down. It has been hard to think about making the leap into getting my own horse again. But I'm hoping to change that this year, I miss being able to own a horse. It's just gonna take a lot of planning.
Glorious: You've worked on a Netflix documentary, tell us about this.
Emmie Sperandeo: Yes! I was filming for the sequel to 'Kiss the Ground' throughout the summer. It was pretty low key, but still an awesome opportunity. I got a ton of B-roll for them and captured a segment about women in ranching, out in Montana.
Glorious: We've seen some incredible videos of you skijoring, can you tell us more about this?
Emmie Sperandeo: Skijoring is a new sport I took up last winter! It's where you run a horse down a track with a skier rigged on your saddle, and whoever has the fastest time with no faults wins. It's really fun and challenging. I like that it gives people who live in harsh winter climates a reason to look forward to the snow.
Glorious: You spent the whole of April in Namibia, tell us about this experience and how it differed from other places that you've travelled to?
Emmie Sperandeo: Namibia was life changing. I was so nervous about the whole trip, but once I arrived I immediately knew it was worth every bit of planning and travelling. The journey to get there took about 48 hours. It was the most remote place I have ever been. I worked on a ranch in southern Namibia, which had Simbrah cattle, sheep, and horses. Whilst there, my project was to work with a wild horse that had voluntarily stuck around with the ranch horses. It was easily one of the coolest and most challenging experiences I've had in my horsemanship journey. It was an amazing learning experience. I left Namibia with a few cracked bones, but I'd do it again in a heartbeat. With that trip being my first time leaving the continent, it has really inspired me to continue traveling abroad and pushing out of my comfort zone.
Glorious: Where are you currently working?
Emmie Sperandeo: I am currently working on a bison and angus ranch in western Montana. I'll be here throughout most of the summer, but I will leave on and off for shoots or other trips/clinics. I do a lot of our horseback work on the reservation, so I ride out solo to move/check cattle, ride fencelines, pack salt, etc. I'm currently bottle feeding an orphaned bison calf, which has been a really neat experience.
Glorious: What would be your top tips for women starting out who want to be a full-time videographer?
Emmie Sperandeo: Find your niche and practice it all the time. I'm STILL learning and improving, you never know everything in this line of work. Just don't be afraid to put your work out there and tell the snobby film buffs to fuck off.
Glorious: Anything exciting coming up?
Emmie Sperandeo: Come the fall, I will be doing a cross-country trek. I'm still in the planning stages, but I know I'd like to be somewhere a little less snowy than this past winter in Idaho!
If you love this you'll also love...